This is our #1 – Most Popular
Summer Weekly & Winter Bi-Weekly
Fast Eddy's is making all monthly payments easier! In 2023 we are starting a new FLAT MONTHLY RATE for the entire 12 month in the year. No more, hard to remember, pricing by the cut. The new pricing is calculated by the annual yearly cost, then divided by 12 months in a year. Giving us the same constant price for the summer and winter months.
Basic Lawn Service Includes:
Lawn Mowing
Edging: Walkways, Driveway, Beds, Tree Rings,
String Line Trimming (Weed Whacking)
Blowing: All Surface Areas
Monthly Rates stay the same all year!
Front Yards Only
Front Only – Avg. Lot – $78 Monthly Rate
Front Only – Corner Lot – $96 Monthly Rate
Front and Back – Complete Yard
Average Lot – $114 Monthly Rate
Larger Than Avg. Lot or Corner Lots & Cul-de-sac – $132 Monthly Rate
Extra large Lots – $150 Monthly Rate
Double Large Lots – $ 168 Monthly Rate
Triple Large Lots – $ 186 Monthly Rate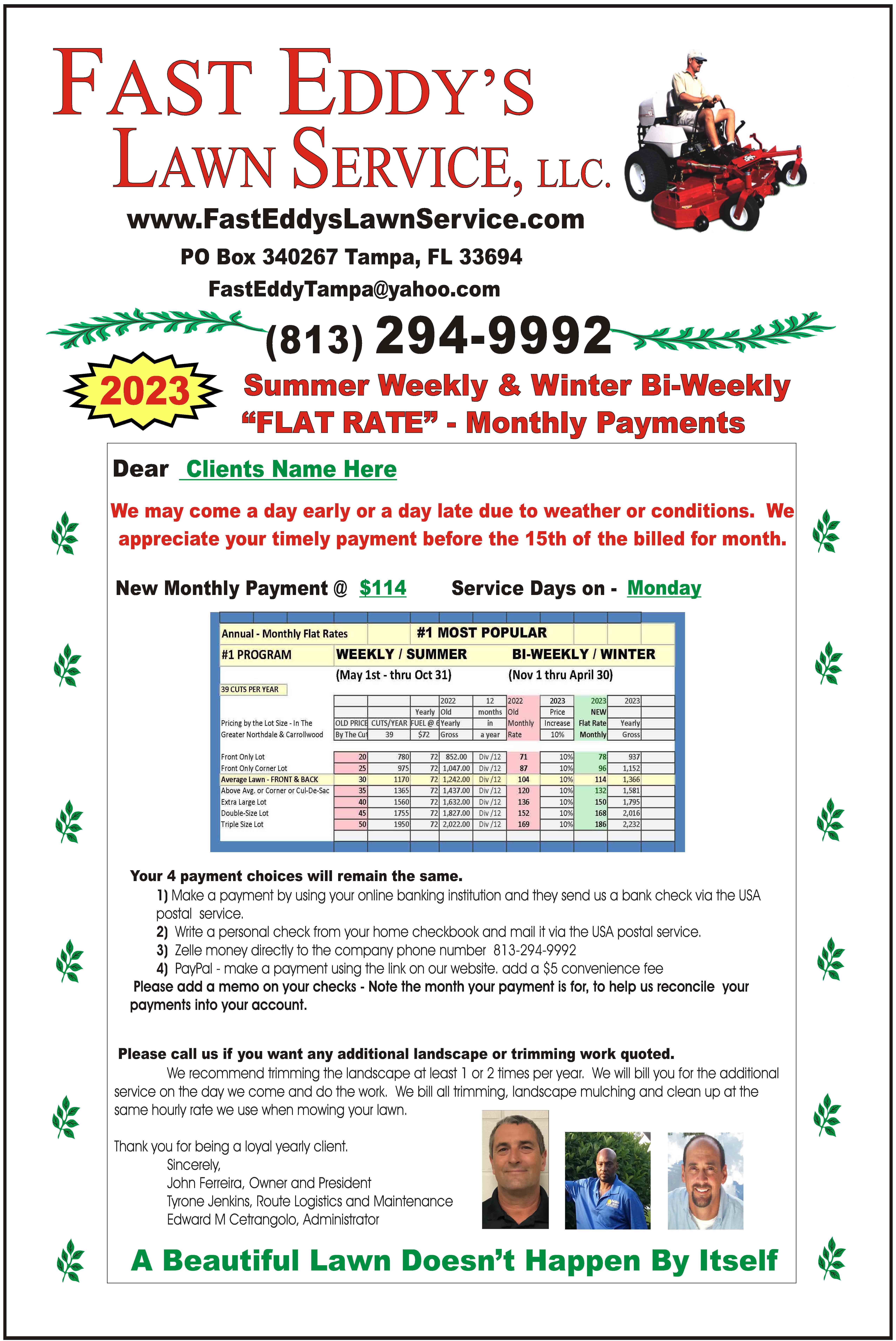 "Out Of Hand" Additional Charges
These charges only pertain to new "start up" clients with yards that have become overgrown.
One time fee Starting @ $30. Additional fees may very depending on severity. Will be price quoted upon arrival with an evaluation of conditions below:
Overgrown Mowing
Overgrown Edging
Overgrown String Line Trimming
Overgrown with Excessive Blowing
Thank You for Understanding our Labor Costs!
Trimming and Landscape clean-ups are an additional cost. We do not quote bushes or clean-ups over the phone. We only Trim for our "Year Round Clients Only". We quote one week and perform the service in the next scheduled week. We will bill you out separately for that day of trimming services. Our trimming services includes: shrubs, hedges, small trees, small palm trees, topiary shrubs and small to medium trees that are shaped like mushroom caps. Any left over debris is mulched up then bagged and left by the curb for your regular natural debris disposal service to pick up. We also spread new mulch into your landscape beds. We request to do mulching work the winter time when it is slower and temperatures are cooler.